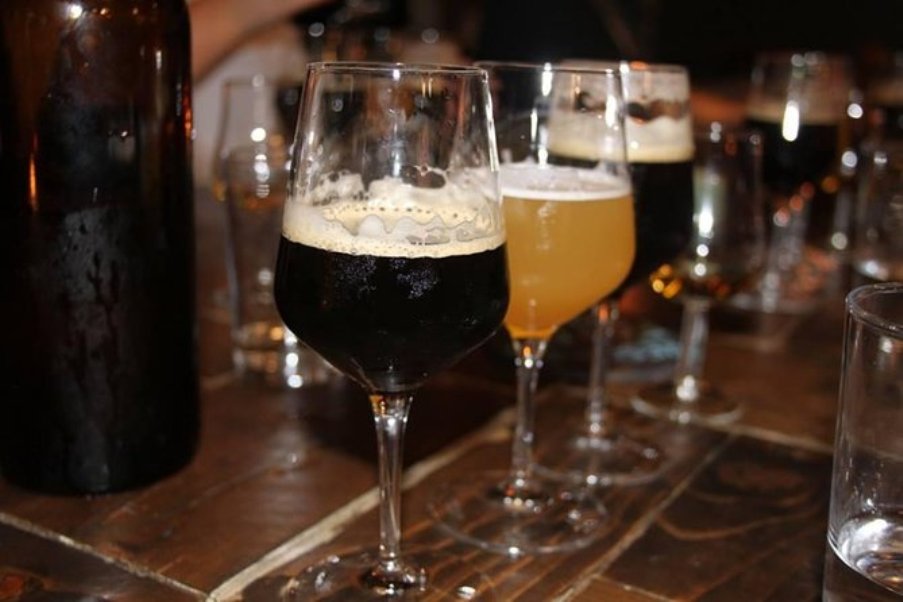 The party never stops at Oslo's clubs, where you can dance into the wee hours of the morning. Oslo's locals come out to play at some great joints to hang out and with drinks to keep you warm even in freezing Oslo weather; the midnight oil burns bright here and we're loving every minute of it. If you still can't get enough of the Oslo nightlife, try heading out for a beer tour.
Jæger
An intimate club nestled in Grensen, at the heart of the Norwegian capital of Oslo; Jæger features a mix of seventies disco and an expansive list of house and techno classics. The place is decked out with an iconic rotating DJ booth, a courtyard sauna booth, and the intimate cabin space in their basement. They regularly feature concerts, afterparties and their backyard is open in the summer, so you can enjoy the sun as you sip on some cold brews. They are open every night of the week and each night features artists from all around the world, check out who is going to be there this week. Jæger also aspires to be a safe space for LGBTQI+ folks. 
Nox & Sollihagen
Nox / Sollihagen is a nightclub in Oslo that focuses on delivering a kick-ass party, while also maintaining a high level of service. The club offers a sophisticated atmosphere with Norway's best light and effects show, as well as a summery atmosphere on their roof terrace dubbed 'Sollihagen', where patrons can have conversations over a cocktail in a cosy backyard setting. Housed in a stunningly beautiful building complex, complete with highly exclusive interiors and a wonderful selection of finest spirits, Nox is an experience you wouldn't want to miss. The club features the best of Norwegian and foreign DJs which keep turning it up with mainstream house and EDM, while Sollihagen has a nice lounge atmosphere. 
Lawo OSLO
Lawo is the paradise for youngsters looking for a taste of Norway nightlife. LaWo offers a varied lunch/ brunch menu that varies throughout the seasons, featuring classic pub grub and chocolate fondants galore. After the kitchen closes, the music is turned up and the whole place changes into a proper nightclub. You're bound to meet some well-dressed individuals as you go high on spirits at Lawo. The night club has tables for big groups and two bars with a wide variety of beverages on offer.
Elsker Club
This club is a popular place for LGBTQI+ people to hang out and it is also open for anyone else who enjoys a drink in a friendly, open-minded atmosphere. Opened in 2006, Elsker (meaning 'love') has become somewhat of a hub in Oslo. There are DJs on Friday and Saturday nights and this bar also serves scrumptious food. It gets busy on the weekends with young crowds dancing to pop and Eurovision and on the complex's third floor, you'll find Klubb 9, open every other Saturday with a house/ electro/ underground mix playing. Elsker and Klubb 9 can both be rented for private events.