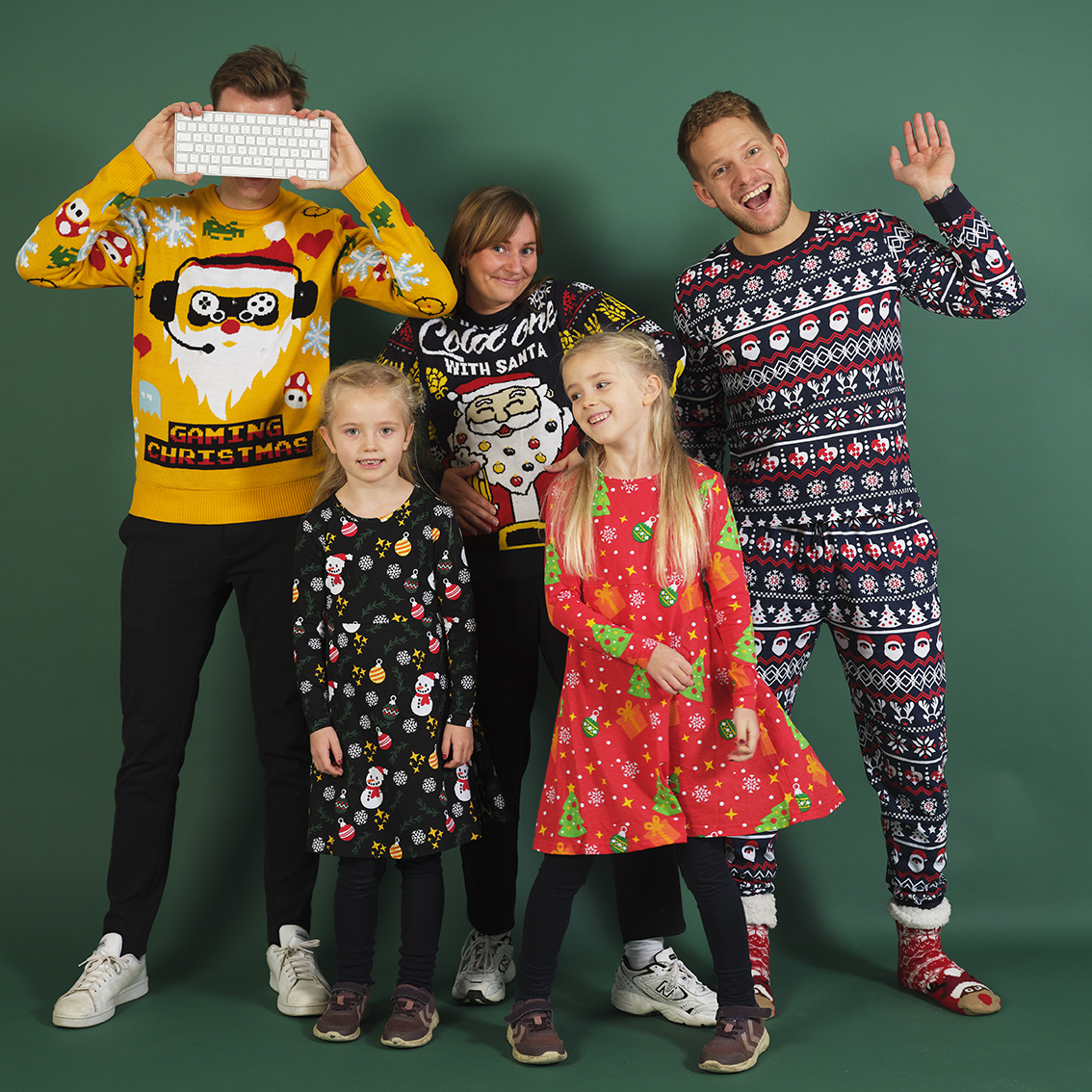 Christmas Sweaters is a Danish clothing brand that's widely famous for creating some of the best and most sustainable Christmas sweaters on the market. Founded in 2016, by two best friends, Christoffer Sloth and Jesper Ahm, Christmassweats is currently the only truly sustainable manufacturer of such clothing items in the world. This means that if you decide to buy such a Christmas sweater, you can rest assured knowing that everything from the materials used all the way to the tags and packaging is entirely sustainable. And they're not only claiming that – they have a certificate to prove it.
With more than 400.000 pieces that are produced each year, Christmas Sweaters is focused on delivering only top-quality products to their customers. And since they have reached huge popularity over the years, their customers truly are numerous. This led to the increased need to create a plethora of different sweater designs, as well as various other apparel. Therefore, you can easily find options, such as a goofy Christmas sweater, sweaters for gamers and dog lovers, and even a Christmas sweater with light.
That being said, let's learn more about this amazing clothing brand and see why people all over the world enjoy their products so much.
How did Christmas Sweaters came to be?
As mentioned previously, Christmas Sweaters was founded by Christoffer Sloth and Jesper Ahm back in 2016. By 2018, the company went full-time, with the number of customers constantly rising. As a matter of fact, their revenue went from €40.000 in 2016, to a staggering €4.250.000 in 2021. Even though Christmas Sweaters mostly focuses on the online market, with more than 300 resellers in Germany, Scandinavia, Italy, Netherlands, France and Spain, they've had a few physical concept stores as well.
Since the trend of wearing Christmas sweaters originated from the UK and US, Sloth and Ahm recognized the absence of such clothing pieces in the European market. Jokingly, they've begun exploring the idea of bringing Christmas sweaters and other similar apparel closer to the European audience. And even though the whole concept of their brand began as a joke, they are currently Europe's biggest manufacturers and suppliers of Christmas apparel.
What sets them apart?
It wouldn't only be irresponsible but also impossible to choose a single thing that sets Christmassweats apart from the rest of the crowd. To start off, they are the only clothing brand in the world that manufactures GOTS (Global Organic Textile Standard) Christmas sweaters and other christmas apparel. And considering the fact that in this day and age there really should be no room for businesses, and especially clothing manufacturers, that are not sustainable, you can easily see why their products became an instant hit.
What's more, Christmassweats focuses on making their products easily affordable and accessible to all. This is due to the fact that they put sustainability before revenue, which is only yet another reason customers find this brand so appealing. Add to that the fact that Christmas Sweaters really put a lot of thought and work into creating their unique designs and ensuring that the materials they use are of the highest-possible quality.
What type of products do they offer?
It's also worth noting that Christmassweats don't solely focus on creating the most sustainable sweaters. Instead, they offer a range of products that include sweaters (of course), Christmas pajamas and other comfortable Christmas apparel.
Additionally, their collections feature clothing pieces for men, women and children. So, if you've always wanted to buy matching sweaters or pajama sets for your entire family, you can easily do that at jule-genser / christmassweats. What's more, if you're a gamer or a dog lover, you can easily find such designs as well. Aside from those, you can also explore various goofy designs and even check out Christmas sweaters with colorful LED lights. So, when we said there's virtually something for everyone, we really weren't kidding.
How do I know they're truly sustainable?
When it comes to the proof of sustainability, we understand your potential concerns. There are plenty of clothing manufacturers in the market that claim that their products are sustainable, even though that's not always necessarily the case.
Luckily, as mentioned previously, Christmassweats don't only claim to be sustainable, but they have a GOTS certificate to prove it. Needless to say, companies and brands that have obtained this certificate truly create products that are not only sustainably made, but are made of sustainably-sourced and environmentally-friendly materials. If we consider the fact that fast fashion has led to numerous rising concerns about the well-being of our planet, in general, it becomes more than obvious why choosing sustainable pieces is more than encouraged.
Where can I buy Christmas Sweaters?
Since the trend of wearing Christmas sweaters was most popular in the US and UK, with more than half of all British people owning at least one Christmas sweater, they really weren't as easily accessible in Europe. Luckily, thanks to Christmassweats, you can now easily find such apparel in some of the biggest European countries.
Aside from the countries we've listed earlier in the article, you can also choose to order Christmas sweaters and other Christmas apparel directly from the company's website. So, no matter where you're from or which type of Christmas apparel you're looking to buy, you can easily find what you're looking for simply by visiting the Christmas Sweaters' official website, or checking out some of their numerous resellers.
So, if you're looking to join one of the fastest growing trends in Europe, and get your hands on a sustainable, affordable and high-quality Christmas sweater, you should really look no further than this brand. With such a wide variety of products and designs, Christmassweats truly is a brand that sets apart from the rest of the similar manufacturers. Besides, by choosing to buy some of their products, you won't only be supporting an amazing brand, but you'll also invest in a high-quality sustainable piece of clothing that will last you for many seasons to come. So, what are you waiting for?